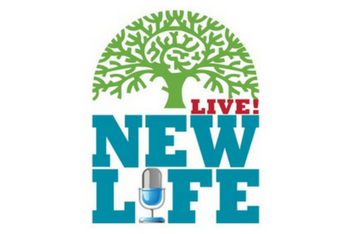 New Life Live
With Host: Stephen Arterburn
New Life Ministries, founded by Stephen Arterburn, began in 1988 as New Life Treatment Centers. New Life's nationally broadcast radio program, New Life Live!, began in early 1995. "Women of Faith" conferences, also founded by Stephen Arterburn, began in 1996; and between 1991 and 1999, New Life acquired the Fred Gross Christian Therapy Program, Remuda Ranch, Minirth-Meier Clinics, and the Calvary Center. All have since been sold or closed. New Life's Counselor Network was formed in 2000; andTV.NewLife.com, our internet-based television channel, was launched in 2014. New Life continues to develop and expand our programs and resources to help meet the changing needs of our callers and listeners.
Today New Life Ministries is a nationally recognized, faith-based, broadcasting and counseling non-profit organization providing ministry through radio, TV, our counseling network, workshops, support groups, and numerous written, audio, and video resources. All New Life resources are based on God's truth and help those who are hurting find and build connections and experience life transformation.
Our New Life Live! radio program, still the centerpiece of our ministry, is broadcast on Christian radio stations in more than 150 markets, including most major metropolitan areas and XM/SIRIUS satellite radio. New Life Live! can also be seen on NRB, SkyAngel, and The WalkTV, as well as our internet based television channel.
Our passion is to reach out compassionately to those seeking emotional and spiritual health and healing for God's glory. New Life Ministries Resource Center receives thousands of calls each month from those looking to us for help. We look forward to the future with hope that God will continue to bless our ministry and those we serve.